Hasting's local expert digital television antennas, installation, repairs and television wall mounting services.
Do you have issues with television or
mobile phone reception
? Andrew Lacey from Antenna IQ has over 21 years of expertise fixing difficult television reception issues in Hastings. Hastings unique environment is tough on sub standard television antennas and incorrectly installed antennas. New phone towers use frequencies previously allocated to television broadcasts, causing major issues for inadequately filtered television and radio amplifiers.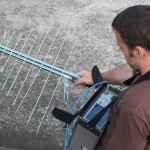 Correctly identifying and installing the television antenna where the best signal on the roof is found will also make a major difference to television reception.
Utilizing the correct testing equipment and the right knowledge will of course greatly speed up the correct identification and rectification of any issues. So for the man with the right tools, know how and materials, today is the best time to touch base with Andrew Lacey from Antenna IQ on 0427004604