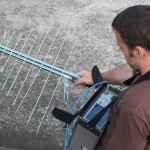 Are you having problems with your digital television? Do you need a digital tv antenna repaired, or does your new home need a new antenna installed?
Andrew Lacey's 18 years of local expertise, combined with the latest in real time digital spectrum analysers mean that Andrew can cut to the chase fast. We don't do guesswork.
Our quarter wave digital antennas have over 10 times more gain than the equivalent digital combination antennas. Correct application and installation of our aerials ensures a long lasting result we're proud to offer our customers.
Noble park can vary drastically with digital television reception and we recommend calling in a specialist.
Configuring Netflix, Apple TV, and google home, Chromecast and other services to get you the very best in home entertainment. All from the comfort of your living room.
Andrew can also install life like surround sound and wall mount televisions safely, professionally ensuring the best possible television viewing experience.
Why not call Andrew Lacey today on 0427004604