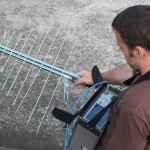 Do you have interference issues in Bangholme? Do you want a quality digital television antenna that will last just like antennas used to? Looking for a fast, reliable and antenna installation service in Bangholme? AntennaIQ have the know how to get it done, and get it right the first time. Every antenna is installed by a highly experienced technician who has installed hundred's of antennas around Bangholme. Using the latest in testing and reception alignment equipment, we are their to get the job done right the first time.
Don't know which antenna to buy?
Not to worry – As well as antenna installation we also carry a range of Antennas designed for the latest in Freeview digital television and to cover all reception conditions in Bangholme. Our antennas are designed for 3D and DVBT2, so you can be assured of reliability into the future. We use quality products from Fracarro, Alcad, Hills, and Ikuzi. You can be sure that our products are designed for the best television reception now, and in the future.
Need to upgrade?
We provide consultive services to upgrade your system and make it digital ready. Everything from the latest in amplifier, antenna, cabling and distribution technology to ensure that your system works in Bangholme. We use only the latest quality test equipment.
So if you need an antenna installed, choose AntennaIQ to get the job done right the first time.