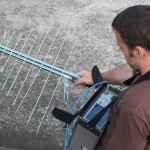 Are you having annoying interference issues in Baxter village, Frankston South and Mount Eliza? With the introduction of digital as well as being location in the hollows of
Frankston South
and
Mount Eliza
, signals are not as strong as other areas on the Mornington Peninsula. Thanks to Andrew Lacey from Antenna IQ things are changing. With the latest in digital spectrum analysers, over 20 years of industry experience, utilising the best and latest from the most respected antenna manufacturers, Andrew Lacey from Antenna IQ has the know how to get the job done right the first time.
We also
mount televisions
, install surround sound for true to life sound, add television and FOXTEL outlets, fix any satellite TV issues, redistribute FOXTEL (conditions apply) or in house video channels, and can even integrate your system to make it work well.
So why not give us a call today, or google Antenna IQ and check out some of the reviews from our happy customers.